Increase Your Exposure
Get more traffic and exposure by dominating the top rankings in Google.
Grow Your Customer Base
Drive more customers to your business than any other web marketing strategies.
Increase Your Revenue
Grow your business and revenue with the new leads and customers who want to buy your products and services.
WHY CHOOSE OUR PPC Management Company?
Whether you need more traffic to your offer, or you need new high converting website or just uplift in your conversion rate we have got you covered.
We plan, research and execute profitable online marketing campaigns that bring more customers and profits for your business with high ROI.
Google Partner
BBB A+ Accredited Business
Dominating Page One of Google
All Work is done in-house
Creating high converting websites
No long term contracts
OUR PPC Management SERVICES CAN HELP YOU GET MORE CLIENTS FROM YOUR WEBSITE
Browse our locations below
We offer our PPC management & search marketing services all over Canada and the United States. All the work we do for our clients can be done remotely but if you are a larger client, we can flying in to help you.
Below are all our locations, and if you don't see your location don't worry we have you covered. Contact us today to get started!
British Columbia
Vernon
Nanaimo
Port Coquitlam
Kamloops
Courtenay
Nova Scotia
Manitoba
Saskatchewan
United States
California
Anaheim
Fresno
Los Angeles
Orange County
Riverside
Sacramento
San Diego
San Francisco
San Jose
Santa Ana
Stockton
Oregon
Utah
Idaho
Arizona
Colorado
Nevada
New Mexico
What is Pay Per Click (PPC) advertising and why do you need PPC management?
When thinking about the marketing of your website, there would be tons of different factors that you would need to take into consideration. Amongst them, one of them would be PPC management. While this might be a term that you have heard here and there, you are not exactly sure about what it would entail. You are also not sure about how it would benefit your business. With the competition increasing with every passing day, there is nothing that you would be able to leave up to chance. This is because even a minor mistake would mean that your company would be set back quite a bit. This would then give your rivals the perfect opportunity to race up ahead. Now, this would not be something that you would like to happen.
It would be because of this reason that we feel that you know as much as you possibly could about PPC agency. Even though you believe that this would be something which you would be able to do on your own, that is not exactly true. By having someone knowledgeable and experienced by your side, you would be able to make sure that all the necessary tasks would be done properly, and accordingly the best industry standards. Also, you would also be assured of the fact that you would be able to get your desired results.
What is Pay Per Click?
Pay per click marketing, also known as PPC, would be a model of advertising that would allow marketers to pay only when their ad would be clicked on by an online user. In fact, you would find search engines like Bing and Google to make PPC advertising available on an auction basis. This would mean that the highest bidder would typically earn the most prominent placement.
So, if you would like to show an ad on paid search or PPC results, then we could help you to create ads and then bid on specific search phrases which would mean that your ad would be shown when customers are searching for your products or services. These ads would then appear below and above the non-paid (free) and organic search results. Also, you would be required to pay the search engines a fee every time a user would click on your ad. This would be regardless of the number of times your ad seemed to pop up.
Aside from all this, PPC management companies, including ours, tend to operate on an auction basis. If you would like to show your ad on a particular website, then you would have to bid on the maximum amount that you would be willing to pay. This is because when you would bid the most in that auction, you would increase your chances of coming up on number one of these paid or sponsored results. However, you would have to keep in mind that all of these would depend on many other factors. Also, there would also be something known as a quality score which would be able to impact your ranking.
So, if someone would click on your PPC ads, they would arrive on your website from the page they were visiting. As such, you would be charged no more an amount than what you had bid. Even though all of this would be quite confusing to understand, it would be important that you just keep in mind the basics. Since our PPC management experts would be looking after the whole thing, you would not need to be worried about much.
Importance of Pay Per Click management services to digital marketing
When hiring Pay Per Click management firm, you would be wondering if this is something which would be necessary or not. With budgets, resources, and time being limited, you would like to make sure that it would be worth your time and money.
So, an important thing that you would need to know is that PPC advertising would be able to help generate traffic right away. If you spent sufficient amount of money, and with the right professional PPC targeting you would be able to get instant top placement, in the search results, and the potential customers would see your company first. If people would be searching for key phrases on which you have bid and if your ad qualifies for that, then it would be placed in an appropriate place, then you would be successful in getting the clicks the moment the ad would be activated.
PPC advertising generates fast results

When PPC would be done by our PPC company, you could expect it to be quite fast. This is because we seem to understand how important time is to our clients. So, with a limited time frame in hand, we would make sure that all the necessary work be done within it. Also, we would also use Google AdWords so that we would be able to generate targeted traffic within a few hours of opening an account.

Nimble

In the case of organic search engine marketing and other forms of advertising, it could lag months or even years to get the desired results. However, in the case of PPC advertising, all of the work could be done within hours or days. This would help to provide an unmatched competitive advantage which would easily be used to adjust to changing customer interests and market conditions.

PPC Marketing is Considered to be a bargain

The work which would be done by our PPC management company is considered to be a bargain. Even though this would be hard to believe, this is indeed quite true. Thanks to this method, you would be able to generate highly targeted traffic to your website. All of this could be done at a fraction of a cost of the other forms of paid advertising. As such, you would be able to get the best of both worlds.
Challenges of PPC advertising
Even though PPC advertising has its fair share of benefits which no one would be able to deny, it would also be a good idea to know about some of the challenges. While you would not have to be overly worried about it since all the hard work would be executed by our PPC management team, it would still be a good idea to have some knowledge about it.
Amongst all this, you would need to know that your PPC marketing could raise costs quite quickly. This is because it could be quite easy to get caught up in a war where you would be spending without having any account for it. Also known as ego-based bidding, this would not be a trap that you would like to get in to. As such, the cost buildup would trigger which would then raise the cost-per-click for keywords and phrases which would be highly searched. If you were wondering the cause of the increase of the cost, it would be easy to explain. The simple reason would be ego-based bidding. Search engines would also be the reason since they would seem to impose quality restrictions on a lot of keywords. As a result of these restrictions, the cost per click (CPC) would increase. This would seem to persist even if no one would be bidding.
Additionally, our pay per click management agency has also found that junk traffic or even click fraught could suck the life out of your campaign. This is because it might happen that your ad would be distributed to all sorts of web sites and search engines, in addition to the most popular ones. So, while you would like to increase your visibility and popularity, you would also not like your ads to pop up on the deeper and darker sides of the internet. If you would like to get your money's worth, then you would have to separate the partner network campaigns and then carefully manage them.
Lastly, you would also know that pay per click campaigns may not seem to scale. This would mean that if you would get more traffic, then you would be required to pay more money in direct proportion to that traffic. So, while your cost per click would seem to remain constant, your overall cost would tend to increase.
The role of PPC management for your business
In the context of your business, you might not find it to be a large and thriving one. So, while you might have your reservations regarding it, there would be some important roles which would be played by our PPC management firm. If you would like to know about some of them, continue reading below.
Efforts that would be based on issues and campaigns

If you would like to go for a campaign for the short term that you would be launching or a special issue that you would like to talk about, then pay per click campaign would seem to be the most appropriate option. This is because you would be able to generate the required amount of buzz within 24 to 48 hours. Also, you would also be able to change the content of your campaign along the way. On the other hand, if you would like to focus attention for a short period, then PPC management would be a very good option.

Direct-response optimization

If you would be focused on selling products and services that customers would be able to get the time they land on your website, then PPC would be an awesome tool. This would seem to be ideal for online stores. This is because you would know that every click which would be generated would be a real and potential customer. Hence, the more money that you would spend rack up the clicks count, the more profitable it would be for your company. Also, by staying prominent as much as you possibly would be able to, it would help to increase your return on investment. Hence, that would not be something which you would think of turning off. Since our main priority would be to keep the costs consistently low on a month to month basis, we would uphold this as much as we possibly could.

Business to business awareness

A service offering in which the cycle of sales would be measured in months and weeks instead of minutes, then with our PPC management service we would be able to help you with the acquisition of users of high quality and visibility. This is because you would be able to control the copy of ads that every new user would see. You would also be able to ensure that the new user would have a good impression at first glance. In other words, optimization would be done to pay for the maximum number of best clicks and leads while also keeping the cost low as much as would be possible.

Niche terms targeting

The company goal being able to generate traffic for a highly specific key phrase, then PPC would be able to help you provide discounts and thus gain new clients.

Shopping ads – Product listing ads

The main business operation would entail selling products, then search engines such as Bing and Google would be able to offer a particular kind of ad, known as shopping ads or product listing ads. These would help you to highlight your product and would also include an image. In fact, these tend to be highly prominent in search engine results and get higher click-through-rate and higher conversion rate (CR). These would be able to do wonders to attract potential customers who would be looking for what you are indeed selling.

Remarketing campaigns

With our PPC management services, a platform such as Google AdWords would be able to give you the opportunity to make audiences of previous website visitors and users. As such, you would be able to target these audiences with ads specifically tailored to them. You would also be able to include video ads and images. Also, if you would like to target previous visitors but who have not bought anything from your website, then remarketing would seem like a highly cost-effective option to increase the bottom line. Those retargeting campaigns usually tend to have higher conversion rate as this is not cold traffic.
All that being said, the general rule of thumb for our PPC company would be not to lose focus. Even though we would be able to generate quick results, we would still handle it like any other form of advertising. That being said, we would create a custom tailored to your needs PPC campaigns, and based on your business goals we would concentrate on conversions, clicks or impressions.
4 Reasons you need to hire best PPC management company
Higher-quality ads copy, leading to higher conversions and ROI

Amongst our specialty, our team of PPC experts would be able to provide your company with the ability to perform research at a competitive level. You see, we understand how to research your competition. Based on that, we would be able to create ads for you that would work. So, when you come to think about it, these kinds of copies would not be something which you would be able to do on your own. This would particularly be the case when every single word would mean something.
So, thanks to the right ad copy, it could help to increase your CTR of your campaigns and result in greater conversions. The opposite would be the case with a bad copy. This is because it would not help you to convey the right and desired message. All of this would result in low conversion which would mean that you wasted a lot of money for nothing.

No Technical expertise required at your end

Our PPC agency would also be able to give you unmatched technical expertise. This is because the foundation for any good pay per click program would be the skills to track sales and its source. With the help of good analysis, it would show you the keywords and placements that would most likely bring the maximum amount of conversions. Other than all this, tagging would also give you insight into the most effective ones. So, in the case of tracking code installation, it would require HTML knowledge of at least a basic level. Hence, if you would not possess any such knowledge, then it would be best if you would leave this job to our experts.

No need to deal with the confusing PPC campaign setting

If the aim is to get the maximum exposure for your campaigns, then different kinds of settings would need to be applied. So, if you would not have a clear understanding of these settings and how they would benefit you, then you might end up paying too much for too little. If you would not have someone experienced by your side, then you would also never be able to know.

Prior experience with similar clients

Another benefit that you would be able to enjoy from working with our premier pay per click management company is prior experience with similar clients. Since we seem to have worked in the industry for quite some time now, we have dealt with a wide range of competitive clients. All of this could easily be applied to your account, which would then save you thousands of dollars.
Lastly, we would also be able to help you keep up with all the latest changes and make sure that these would be implemented in due time. As such, there would be nothing that you would need to be worried about. Being a business owner, you would then be able to utilize this time to focus on other more important tasks for your business and your family.
Are You Ready to Dominate Your Competitors?
Our Results Speak For Themselves
Here are a few samples of our number one rankings. We hold many positions on Page 1 against our competition. We can do the same for your business!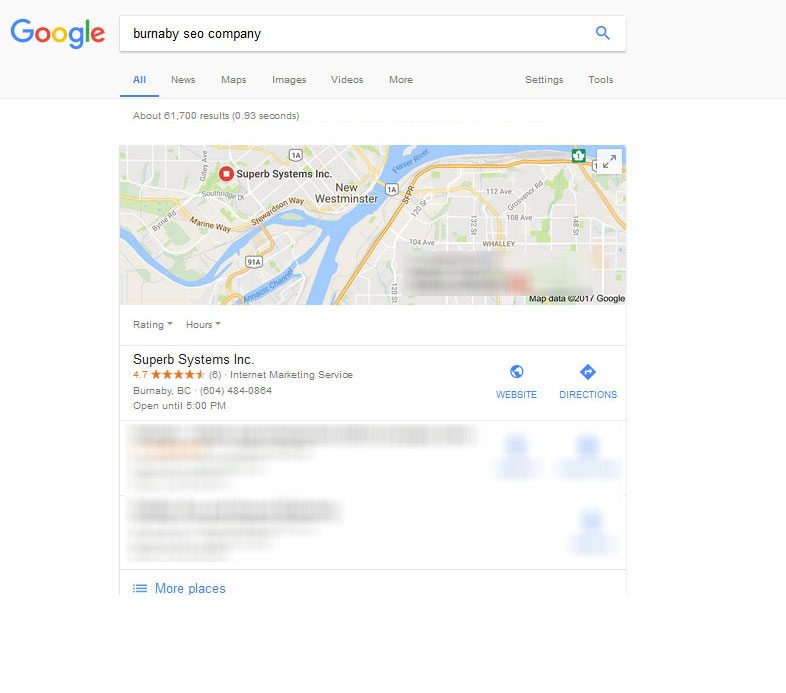 Click Here To Get Started